New Cellar in progress..

My cellar has grown a lot since this picture but just to give you an idea. You don't need much to get started, Just try and keep it dark and cool. Around 65-70 degrees will suffice, as most of us cant freeze all the time just to keep our wine cellars cool. I will post new pics here in the future as I design a more elaborate cellar. I have plans in the making.. My completed cellar will hold about 200 bottles!!

This was just after bottling some Merlot, and letting the corks air out before labeling and laying down. You can find these wine racks for about $50.00 on the internet, they hold 140 bottles.
I have an application for a commercial license to market my wines, once this happens I will build a large building for the storage and fermentation of the wine. But this page will give you and Idea of how simple a small in home winery can be to setup and operate. and you will make wonderful wine. Remember keep things clean and organized and by all means talk to your wines...I do... hehe
My filter setup. I bought the pump at home depot and it will pump up to 330 gallons an hour. the filter unit you see can be bought at presque isles (link is on suppliers page) over the internet its a little over $100.00 but well worth it I have the entire unit on wheels and can roll it to where ever I need it..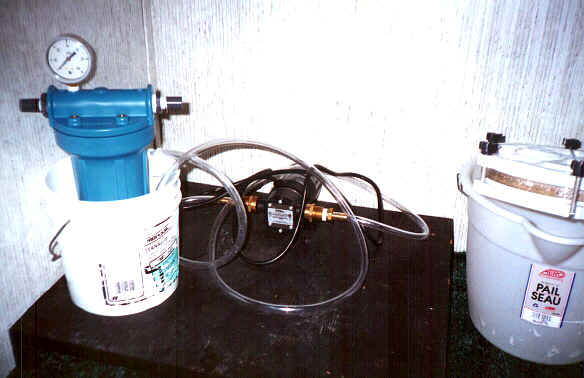 I store most my chemical like this. on the wall to the left I have hooks where I hang all my hoses, funnels and racking tubes. You will see a flashlight, this helps to shine into the carboy for spotting bubbles and floating matter. The books you see are where I log all the wines I make.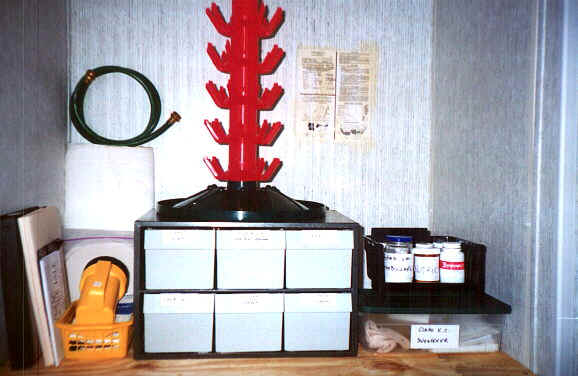 This is 5 gallons of peach. you will notice it threw a lot of settlement, when a wine does this don't panic, it had lots more in the primary. just give it a week or two and rack it off again. you can see how I store my empty glass bottles, and how very clean they are. notice all the different sizes, this is so I can keep any excess wine in them for topping up later on...OH the small glass with wine in it is for catching fruit flies, it works great!! put dish washing liquid on the top.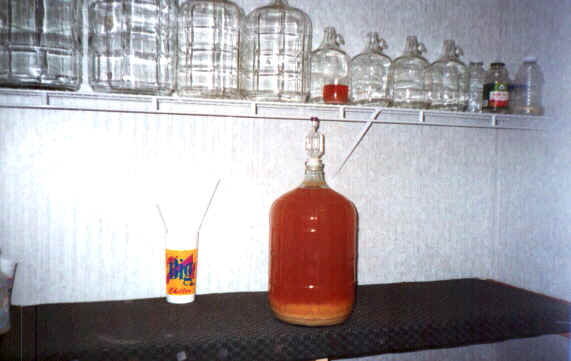 Wine Links | Procedures | Fruit Recipe's | Tips | Equipment Suppliers